"Enjoy Your Stay" Promise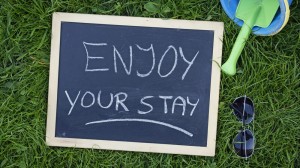 The "Enjoy Your Stay" promise means we are committed to providing services that enhance our residents' lives:
 30 Day Satisfaction Promise
If you are not satisfied with your new home within the first 30 days we will release you from your lease agreement.
 Late Fee Forgiveness Program
Things happen. We will waive your late fee one time every 12 months.
 Game Changer Relief Program
Life happens.  If you're dealing with a life altering experience that adjusts your income, we will design you a partial payment plan for up to 2 months.
 Referral Fee Program
Word of mouth advertising is the biggest compliment we can receive.  For every new resident you bring us we will pay you $100!